Economics of nostalgia: Aging rock stars' access to fan dollars has 'never been easier'
Shane McNeil, BNN Bloomberg
Elton John, Rolling Stones, KISS among acts banking on nostalgia with legacy tours
"Hold on… One more time with feeling. Try it again." – Regina Spektor
Scrolling through Billboard magazine's list of 2019's top-grossing concert tours, an obvious trend emerges.
Once you get past the top three earners – Ed Sheeran, Pink, and Korean boy-band BTS – the chart starts to get … well … old.
Six of the remaining slots in the top 10 were claimed by reunion tours or legacy acts, whose most prolific and successful musical output are years or even decades behind them. In order, the top 10 was rounded out with: Elton John, The Rolling Stones, Metallica, Paul McCartney, Backstreet Boys and Kiss. Only Ariana Grande at number seven is a steady fixture on the charts nowadays.
More and more money is being made by artists whose primes are a thing of the past, but is there any reason these acts are pulling in more fans than ever?
"Rock bands have always dined out on nostalgia and are able to tour because people want to see it," Bell Media head of artist and music industry relations Tyson Parker told BNN Bloomberg in an interview.
"It's driven by money, but I think the access to their fan base has never been easier. I think streaming has provided that."
Parker, who was formerly vice-president of communications and artist relations with Universal Music Canada, says the ability to access a band's entire discography for a monthly fee is increasing the exposure of legacy acts to wider audiences than ever before. What's more, he says, is that the comparatively low cost of monthly streaming fees compared to what it used to cost to purchase a band's back catalogue on vinyl or compact disc is freeing up more cash for fans to pay for concert tickets.
"The catalogue business is, I think, about 60 per cent of the streaming industry. And that's allowed access to The Eagles, Robert Plant and a lot of other historical artists," he said.
"You don't have to get off your couch to do that, and it only costs you $10 a month for every piece of sound on the globe. And, you can afford (to use) your entertainment dollars to go and see these acts."
There is evidence to suggest fans are paying more and more to see these types of acts, too.
The Stones, for example, grossed $177.8 million on the back of just 16 shows. That figure just edges out the $177.4 million Metallica grossed, despite selling nearly a million more tickets over the course of their 46 appearances.
"I'm still standing, yeah, yeah, yeah." – Elton John
Meanwhile, the 72-year-old Elton John outworked everyone in Billboard's top 40, performing 105 shows over the course of the year.
Parker says John typifies both the positive and the negative of the legacy tour.
"People are starving for it," Parker said. "People need an excuse to go out and Elton is it."
However, John – whose "Farewell Yellow Brick Road" tour has been on the road since September of 2018 – is capitalizing on the promise of "this is the end," without actually saying goodbye. The tour - which features a nearly-identical setlist every night – has already made multi-night stops in Toronto in 2018 and 2019, with another slated for March, 2020.
"I think that's wrong," Parker said. "My mother spent $500 - times two, so $1,000 – on tickets to see Elton John, because she was told: 'This is the end.' And now he's coming back."
"I think that's a proper shame."
"Growin' old in a bar, ya grow old in a bar... And if I don't see ya, in a long, long while, I'll try to find you left of the dial" – Paul Westerberg
The phenomenon is not limited to multi-million dollar stadium tours.
Toronto has seen an influx over the past few years of one-off shows and mini-tours from Canadian acts that flourished during the Big Shiny Tunes era of the early-to-mid-1990s.
"The Horseshoe, Lee's Palace and Collective Concerts have always been producing shows for acts whose biggest hits, or the arc of their career, may not be current," Collective Concerts owner Jeff Cohen told BNN Bloomberg in a phone interview.
However, Cohen, who has booked Canadian acts like 54-40, The Tea Party, The Watchmen and The Pursuit of Happiness to packed houses, scoffs at acts from the '90s falling into the legacy bracket.
"Being someone who liked music that was a little left of the dial – that wasn't mainstream – I don't know that we ever see ourselves as [booking] something that is 'legacy,'" he said.
"Part of it is being someone who grew up in that New Wave or punk era, and part of the reason I liked that music was I guess I thought that some of the rock and roll stuff from the '60s – you know, like Herman's Hermits – that was legacy," Cohen continued. "The Clash could [have been] considered a legacy act. It's been 40 years since 'London Calling,' but it never crossed my mind because it seems so current in my musical tastes."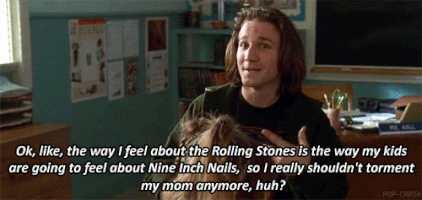 The club circuit – at least in Toronto – is thriving with these bands by being the polar opposite of a cross-continent, multi-million dollar arena tour.
"Those bands are not the ones coming to us looking for gigs. We're the ones who said: 'Hey, 54-40! You should do an under-play. Instead of playing a big 1,500-seat venue, why don't you do a 500-seat venue three times?,'" Cohen said of the B.C. band's recent residencies at Collective Concerts venue The Horseshoe Tavern.
"They hadn't played the 'shoe in about 20 years when we (first) brought them and they thought, 'Okay, let's try that,' and they fell in love with the idea. It felt like a re-connection to their audience."
Cohen said a local club gig can be a quick and easy way for these bands to show proof of life.
"We live in a world where everything's about branding," Cohen said. "So, if I'm an act where I was on the radio maybe 15-20 years ago, there's an interest in continuously playing live, especially in your home city, to just remind everybody that you exist and that your brand is out there."
Parker agreed that the brand can often be more important than the band, especially in an age where artists see significantly less cash from streaming platforms than they would have from physical media sales in years past. This, he said, is changing the very nature of why some acts are even creating new music.
"[Albums] are an excuse to plug the brand – not the band, the brand – into the wall and put the lights up and be able to tour," he said, "because they're making a cent per play on the [streaming platforms] and that's not going to make them a living, unless you're Drake or Taylor Swift."
"And now you do what they told ya." – Rage Against the Machine
The reunion trend is not limited to boomer-friendly acts from the '60s and '70s.
A new breed of legacy act is targeting the spending money of Generation X and even the leading edge of the millennial generation. Acts from the '80s and '90s made legacy bucks in 2019, as well, including Smashing Pumpkins' North American tour with support from Noel Gallagher, as well as The Psychedelic Furs' tour with the Britpop-era band James. Even The Strokes played more shows in 2019 than they had in any year since 2011, albeit only making 12 appearances.
But it isn't always about the money.
In November, Rage Against the Machine announced they were ending an eight-year hiatus to play a series of shows in 2020 with a politically-charged Instagram post.
In Rage's case, though, the decision to reunite may not be a blatant cash-grab.
"Sure, there's money attached to it. No doubt about it," Parker said, "but, I don't think that it would have been their sole motivator."
"I think the time was right and they're alive and well and thought, 'The world may need a voice and we're happy to provide one.'"
Cohen echoed that sentiment, musing that the band itself might not appreciate the 'legacy' moniker.
"Someone like Rage Against the Machine goes away and breaks up and comes back," he said. "At some point does that cross over into legacy? If you told the individual musicians that they're in a legacy act, how would they react?"
"(Rage guitarist) Tom Morello just went on tour with Bruce Springsteen and the E-Street Band, I don't know if he would scoff at [being labelled a legacy artist] or not, but it is interesting."
At the end of the day, Parker said that there is such a thing as too much of a good thing where legacy touring is concerned.
Is it possible for these acts to kill the proverbial golden goose?
"There's only a short answer there, and it is: Yes," he said.
But, he added, the acts that can still thrill a crowd once a room, or a stadium, is full are the ones with the greatest ability to sustain life as a legacy artist.
"I went and saw The Stones this summer and, it was like: The Arctic Monkeys should pay attention," Parker mused.
"The energy that [Mick Jagger], who had a triple bypass displayed … Sure they got paid a ton of money, but the energy was unreal. All of them were unreal. The Stones are magic, and there will never be anything like them again."
BNN Bloomberg is a division of Bell Media.