One month later: Anchoring from home during the COVID-19 pandemic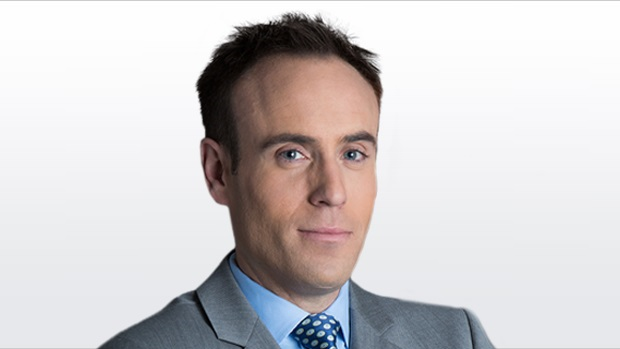 During a recent television broadcast, I found myself distracted by a familiar "pop ding" sound.
It was a blast of Messenger Kids notifications, lighting up a nearby iPad. My eldest daughter's friend was sending rapid-fire texts about who knows what.
The device was close enough to disrupt a CEO interview I was trying to finish, but still not within reach.
And so, I kept calm and carried on with the show.
For the past month, I've hosted BNN Bloomberg's morning program from my house, thanks to an incredible effort by our team behind the scenes. And I'm not alone.
As BNN Bloomberg covers the economic impact of the COVID-19 pandemic, our team of reporters and most producers have moved out of our newsroom.
It is generally assumed that a TV newsroom is a collaborative environment where everybody must be within shouting distance of one another. Yet, we are now operating with almost 90 per cent of our staff never seeing anyone else they work with.
The fact that I've been able to anchor more than 60 hours of live coverage using just an iPhone highlights how far technology has come.
A few years ago, I was an early adopter of Twitter's live-streaming app, Periscope. I covered breaking news events on my phone such as the 2015 shooting in San Bernardino, California and the 2016 Republican Presidential Debate at the Ronald Reagan Library in southern California.
But at that time, television networks had not yet attempted to broadcast full programs using smartphones. Fast forward to the COVID-19 pandemic and it's now common to see broadcasters live-streaming from home on virtually every news channel.
In making this shift, we wanted to ensure we could continue to deliver the kind of programming our audience expects at a time when a record number of Canadians have been turning to BNN Bloomberg.
The broadcast that viewers see from my wife Caroline Lesley's office is streamed through an app called Dejero. My iPhone is mounted on a smartphone stand with ring light.
I quickly learned the importance of keeping my phone in "do not disturb" mode, after receiving a FaceTime call during the show from my nephew. He was trying to reach my daughters for a cake baking activity, which by the way, led to some delicious cake.
I don't use a teleprompter, which we have in our studio and is my guide with scripts, but I'm surrounded by computing power. I have laptop access to our show rundown and our writers do a great job of keeping me up to speed on what's ahead. I can also monitor news headlines and stock market activity.
I've often wondered if my setup is taunting the Wi-Fi gods, but so far so good (thank you, Bell).
There's a good deal of planning before show time. I have a daily call with our hard working show producer Franklin Cameron, who keeps me on course during the broadcast.
We also have an incredible team of segment producers who brief me on the market experts, CEOs and political leaders we have lined up to interview each morning.
I sometimes need to tweak the lighting with help from the technical crew in our television control room; they're one of the few BNN Bloomberg teams still going to the office since their work can't be done remotely.

I've received a good deal of feedback from my father-in-law Stan, who has lots of opinions about my set design choices.
Outside of the occasional technical snafu, the biggest differences are often the sounds around me. For example, my youngest daughter sometimes whistles as she walks down the hallway nearby.
I also sometimes forget to wear my dress shoes, which somehow feels important to me even though I guess I don't need to be wearing shoes.
I definitely miss our television studio and interacting with everyone from the mailroom to the makeup crew.
But there's something genuine about anchoring at my house, especially with so many Canadians doing their part to stop the spread of COVID-19 by staying home.
You also gain more time in your workday when your office is just a few feet away.
And so, in less than a month, all of BNN Bloomberg's Canadian programming is being done remotely. Our global partners at Bloomberg Television are also largely doing the same.
The BNN Bloomberg, CTV News and Bell Media teams deserve huge credit for helping to get things up and running quickly.
And on a personal note, I'd like to thank Caroline and our kids who help me fumble my way through working from home each day.
Most of all, thanks to all of you for watching! Stay safe and healthy!